RainbowLight

Posts

: 285


Join date

: 2020-11-05


Age

: 56

The Forest of Enchantment Tarot. It has been on my list for a while. It's my Christmas pressie
It has a very earthy, shamanic feel to it which I seem to be going back to a lot with Tarot. Kind of funny as I also am more and more into the Lightworker and ascension energies.
Maybe it's to stay grounded? Or to integrate both?
Anywho some images of this beautiful deck.
RainbowLight

Posts

: 285


Join date

: 2020-11-05


Age

: 56

Oh dear, I bought another deck, haha. It's supposed to arrive on Friday so I have to wait a few more days.
I'd been looking for an angel oracle deck for a while, not with great need. Problem is that most are by Doreen Virtue and even though I got decks by her, I'm not a fan. Her guidebooks are crap and I never liked her energy. Also, the artwork on her decks tend to be from various artist within the one deck which I do not like either.
Then I want a deck with Archangels in it, as the more I've worked with Diana Cooper and read her books, the more I feel connected to the Archangel and also call on them regularly. But... on most decks they don't look like anything I'd imagine. Often they look very feminine and sorry, AA Michael is utterly masculine so him looking feminine is simply not on.
And seeing AA Metatron as some softie also doesn't appeal.
Now today I happened to have someone ask me for advice on an angel oracle deck. Isn't ironic since I haven't one yet myself and cannot find one I like!
But I did know Kyle Grey had an angel deck, Angel Prayers, so I checked that out, and bleep me... as I was looking for something to advice this woman I was selling myself on the deck, haha.
So in the end she ordered it as she loved it, and so did I.
I don't necessarily resonate with how the AAs look in this deck, but at least they look masculine when male and feminine when female. It's not a fluffy, lacy type of angel artwork, more modern but I do like it. I think it's what you'd call a sleek design, but not 100% sure.
I also like that is has all the AAs in it that I like & know but also has more general cards  to call on the angels. All in all a pretty complete set.
Also, the cards have silver edging!
I'm looking forward to it! Finally having my angel deck with the Archangels in it, YAY!
A few cards so you have an idea: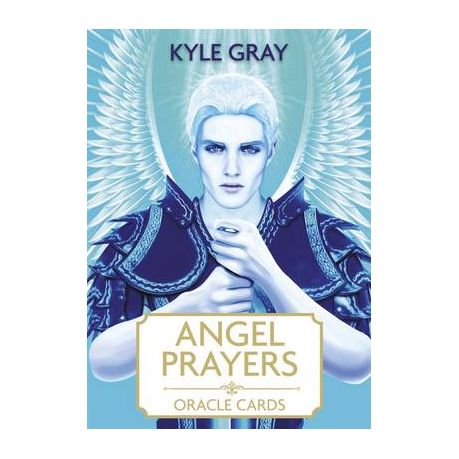 RainbowLight

Posts

: 285


Join date

: 2020-11-05


Age

: 56

Yesterday I came across a love oracle card deck that I didn't know. And I was sold! No lovey-dovey images, just very simple cards with simple images and keywords on 'em. And they don't seem to beat around the bush either. Small size.
It's called the Island Time Wellness Love Oracle Cards.
I ordered them which wasn't easy as it turned out they weren't available or sold out in many shops. They should come in black, pink, white etc. and I preferred pink. But... difficult!! I could buy them directly from the author on Etsy -also in pink- but then the shipping from the US is too steep to my taste.
Anywho, they're on the way!! In black.
Whilst investigating that deck, I came across another love deck: Soul Connections - When Two Hearts Meet love oracle.
I had never heard of it, it's relatively new, also not easy to get hold of. And... the first time I couldn't find a review/unboxing vid on a deck on YouTube.
But what little I saw of it did appeal. The deck just really called me.
I do believe it's aimed more for existing connections, but since I have seen little of this deck, I'm not sure.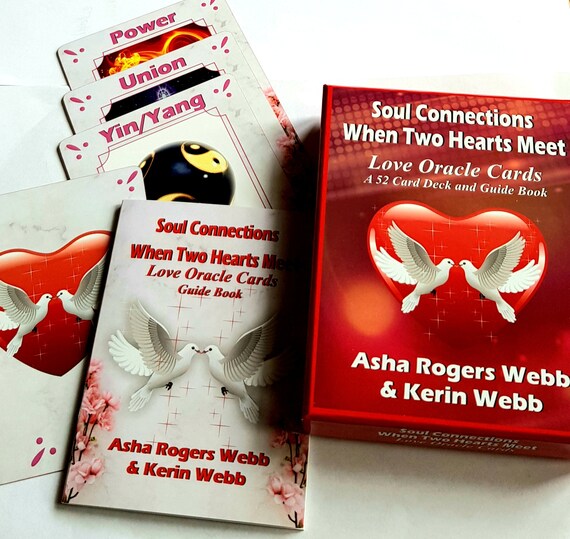 I am very happy with both though! As it is I have 2 love decks, of course Doreen Virtue's Romance Angels which somehow never really seems to work for me. And Tony something from Italy, the heart-shaped cards that are almost impossible to shuffle, but look cute. Unfortunately that doesn't work so well for me either.
So in short, I have no love oracle deck that resonates well with me.
I hope that will be sorted with these 2 new decks!
RainbowLight

Posts

: 285


Join date

: 2020-11-05


Age

: 56

Diana Cooper is releasing an Archangel card deck beginning of March.
It looks quite good! I recently bought an angel deck with AA in it as well by Kyle Gray so I was in two minds about buying another, although this one is nicer, softer, more feminine, which I prefer.
But... I couldn't let it go by. I used the pick a card option on Diana's site and with that -and chosing this AA deck- I've now seen most of the cards. And it is really speaking to me! There are so many AA in there that no one else has in a deck as this is truly Diana's forte.
So if you're looking for an AA deck... you may want to check it out!
Here you can do the pick a card, 1, 2, or 3 cards.
CHOOSE A CARD
A card from the deck, one I really have NEVER seen in any other deck! So I'm very happy with this purchase, even though I had doubts at first. Now I cannot wait for it to arrive.
I've never even heard Diana speak of other Seraphims except for Seraphina. And if I'm correct there's 3 different ones in this deck. SO excited!!
RainbowLight

Posts

: 285


Join date

: 2020-11-05


Age

: 56

Now this was a new one on me: I got really restless and felt the need to look for a specific kind of oracle card deck. I had no idea what as I had nothing currently on the bucket-list.
But I know this feeling from when a crystal is calling me. So after a few hours of trying to ignore the sensation I had a look on Google Images. I found one that I have seen before but doesn't really do it for me. Then suddenly I saw one card of another deck and I knew I'd found what I'd been looking for!
It's the Oracle of the Hidden Worlds by Lucy Cavendish.
I decided to not question this for days but to just buy it. If all goes well, it arrives tomorrow! YAY!
A few cards from this deck:
RainbowLight

Posts

: 285


Join date

: 2020-11-05


Age

: 56

Tue May 18, 2021 12:37 pm
Last year I found out that Denise Linn was going to publish a new deck, The Sacred Forest Oracle. I saw a few images and I loved it! I pre-ordered it.
I hoped that more card images would become available as we approached the release date in the beginning of May, as I was beginning to thing that maybe I bought prematurely.
Then a few images became available about 2 weeks prior to release date and I was really not sure anymore. I was thinking of cancelling my order even. But I was still in two minds when I got notified the deck was on its way to me.
Well, I guess the Universe decided for me :p
And it was good I didn't cancel as it is the most wonderful deck to work with! I'm really happy now that I did get it
To see all the cards, watch this review. It has a short pick a card reading after the review!
RainbowLight

Posts

: 285


Join date

: 2020-11-05


Age

: 56

I got the Gilded Tarot Royale by Ciro Marchetti in. And I'm loving it!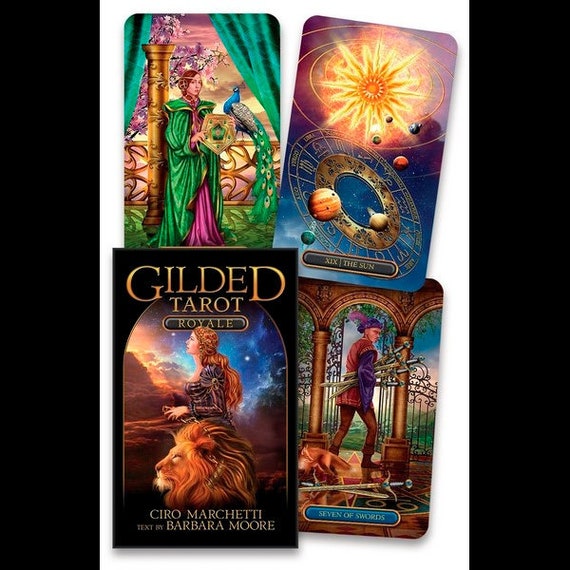 RainbowLight

Posts

: 285


Join date

: 2020-11-05


Age

: 56

The Rose Oracle by Rebecca Campbell. It's only released 5 days ago. Mine is on its way still, should arrive in 2 days. Can't wait!
Funny thing is that a little while ago I was wondering if and when she'd come out with a new deck and then end January it was announced!
Peculiar thing is that I've had something with roses for years, ever since I moved into my home here. I wasn't really aware of that until someone mentioned that I had roses everywhere. I even have toilet accessories with roses, including the toilet seat, hihi.
And vintage rose printed towel hooks in the kitchen, vintage rose clock in the living room, small fabric roses as deco, larger fabric roses in my Christmas tree, and so on and so forth.
In the garden of course also roses. I call it my small rose garden as it's not huge or anything. But lovely coloured and scented roses
Not sure when that started for me, but I love roses!! So I'm very much looking forward to this oracle.
RainbowLight

Posts

: 285


Join date

: 2020-11-05


Age

: 56

Thu Jun 30, 2022 12:21 pm
I've not bought a card deck in months, but yesterday I bought the Gateway of Light Activation oracle deck by Kyle Gray!
I stumbled upon it and my goodness it is gorgeous and high vibrational!
It should arrive tomorrow. Can't wait to get going with it, it is truly amazing, as is the information.
RainbowLight

Posts

: 285


Join date

: 2020-11-05


Age

: 56

Tue Sep 20, 2022 12:13 am
I suddenly felt called to work with trees again. That feeling came up strong during a walk. I hadn't really worked with trees anymore in years and now the longing was strong and deep.
I decided that it would be a good time to get a tree deck in. I'd looked at those before, never bought one though. Now the thought came into my mind immediately.
I looked into the various tree oracle decks. The one I had highlighted a couple years ago didn't really appeal that much now. And I came across another one I'd not seen before even though it's from 2011.
That's Voice of the Trees: A Celtic Divination Oracle. I was in two minds as the artwork in a way is lovely but not entirely correct with it's perspective etc. Being an artist myself that can bother me. But I loved it nonetheless, the booklet too from what I could see on YouTube reviews. So I went for it.
There was another one though that also greatly appealed to me and I decided to get that in as well: Celtic Tree Oracle by Sharlyn Hidalgo. (There's another deck with the same title, that didn't appeal all that much)
The first should come in tomorrow, the latter Wednesday or Thursday.
I can't wait to get going with them! Maybe they'll even get me to use my Ogham sticks
These were made for me by a druid years ago but I've never done much with 'em even though I'm very happy to have them and that he made them for me! I treasure them greatly, just never got round to learning the Ogham sticks for divination.
Might be nice to combine them with readings.
Permissions in this forum:
You
cannot
reply to topics in this forum